Star Puzzles, Event Puzzles, Zodiac Puzzles, First Floor, Lock Scheme & Exile Puzzle
From Wiki Panic Room
Star Puzzle Amulets & Pieces
Star Puzzle Pieces:
Mansion: kitchen, living room, basement, hallway, photolab, bathroom
Jenny: kitchen
Jim: Living room
Jack: Basement
Tigress: Hallway
Dragon in The Bathroom: Children room
Puppeteer: library, attic, film theater
The Investigator: Basement (Reward of completing 5 times: 1 large first-aid kit)
Fire Maiden: Hallway (Reward of completing 5 times: 2 books and 2 healthy meals)
The Elder: Attic (Reward of completing 5 times: English tea party)
All Puzzle Amulets:
Players have chance to find 'Casket of Star Puzzles' in all the rooms.
One random star puzzle amulet can be obtained for each casket except Fire Maiden, Investigator and Elder puzzles. Fire Maiden, Investigator and Elder puzzles amulets available only by purchase right now.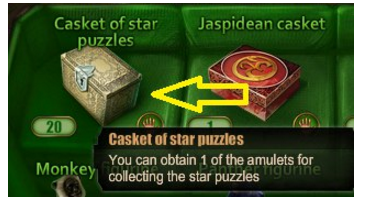 Each of these puzzles can be completed 5 times to get 5 stars.
1 Star -Puzzle have 24 pieces
2 star - Puzzle have 30 pieces
3 star - Puzzle have 35 pieces
4 stars - Puzzle have 42 pieces
5 Star - Puzzle have 48 pieces
Event & Zodiac Puzzle Amulets & Pieces
Amulets of all new Events' and Zodiac puzzles drop while doing activities required by the event. Alternatively, you can purchase them from store. Amulets of past events puzzles are also available in store if you would like to complete them. Hover your mouse over the puzzle amulet and it will let you know for how long it will remain active to find pieces of that specific puzzle in the rooms of house.

Very Common- 1, 2, 7, 8, 13, 14, 19, 20
Common - 3, 4, 5, 9, 10, 11, 15, 16, 17, 21, 22, 23
Rare - 6, 12, 18, ​​24
All pieces fall in Indian Room and Garage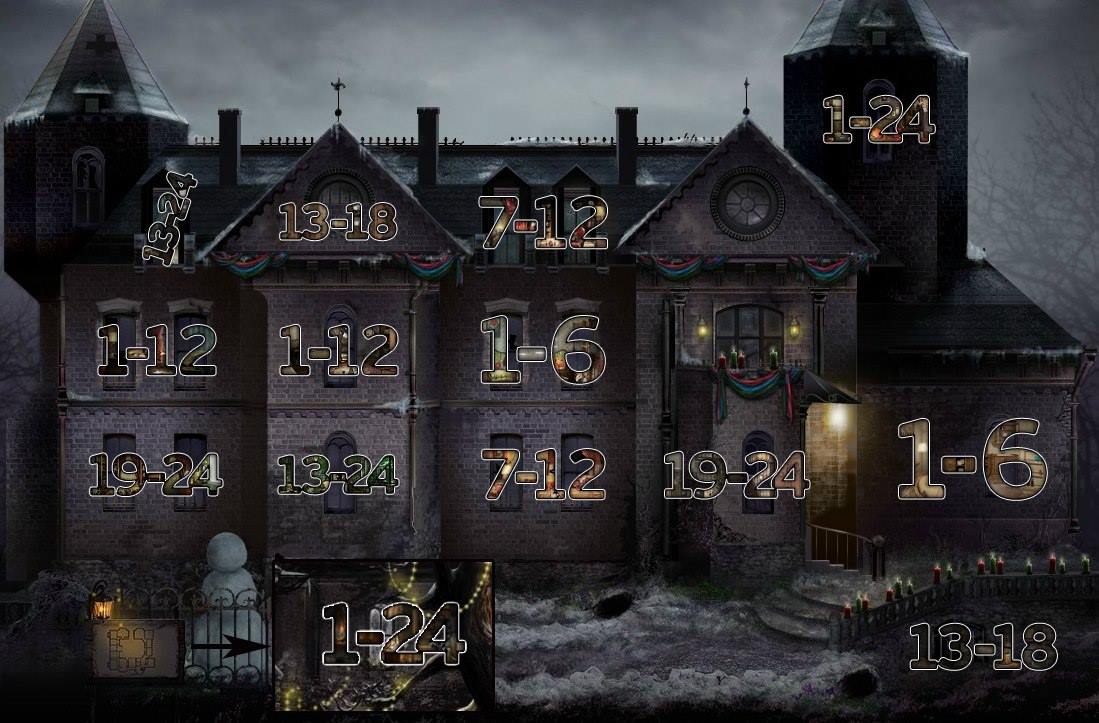 First Floor Puzzle Pieces (1st Season)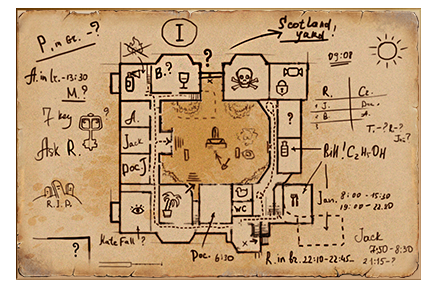 First Floor Puzzle is required to be completed to gain access to the Backyard.

No amulet is required to get first floor puzzle pieces. But you need to reach specific level in the game to get/find these pieces as per following details:

► level 11 - puzzle pieces 1 to 6
► level 15 - puzzle pieces 7 - 12
► level 20 - puzzle pieces 13 - 18
► level 30 - puzzle pieces 19 - 24

You will get all first floor puzzle pieces from rats and crows as per following detail

► 1-7: from black crow
► 8-14: from black rat
► 15 -24: from white crow, white rat, ghost crow, ghost rat.

All pieces are giftable and you can also place them on your wishlist with the exception of piece 24. but remember your friends can send you the required piece if you have satisfied above level restriction. for example if you are level 22 in the game your friends can not send you piece 19.
Piece 24 (Additional Information)
There is following Special Quest Chain About Opening the Backyard. You will get piece 24 of the first floor on completing this chain.

The first or the Second season:
1. Hints someone else has
2. Drafter ravens
3. Playing duets / Forbidden help (depends on fraction) <- from this quest you will get 24th piece
The Third season:
1. Get tips
2. Toys-draftsmen
3. Silent Assistance <- from this quest you will get 24th piece

Also Piece 24 may drop from white albino Rats and Crows
Lock Scheme Puzzle Pieces (3rd Season)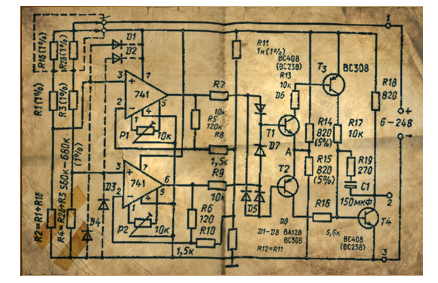 Piece 1-2: Film Theater (common)
Piece 3-4: Bedroom (common)
Piece 5-6: Winter Garden (common)
Piece 7-8: Study (common)
Piece 9-10: Film Theater (rare)
Piece 11-12: Bedroom (rare)
Piece 13-14: Winter Garden (rare)
Piece 15: through quest 'Do You Remember?' by John. Reward pieces 1 & 4
Piece 16: through quest 'Search In The Study' by John. Reward pieces 3 & 7
Piece 17 & 18 Study (very rare)
Piece 19: through quest 'Strange Is Not a Dream' by John
Piece 20: through quest 'Questions, questions..' by John
Piece 21 Winter Garden (very rare)
Piece 22: through quest 'Underwater Operation' by John
Piece 23: through quest 'New Scraps' by John
Piece 24: through quest 'Last Question' by John
Exile Puzzle Pieces (1st Season)
All pieces 1-24 available in Cellar (backyard)