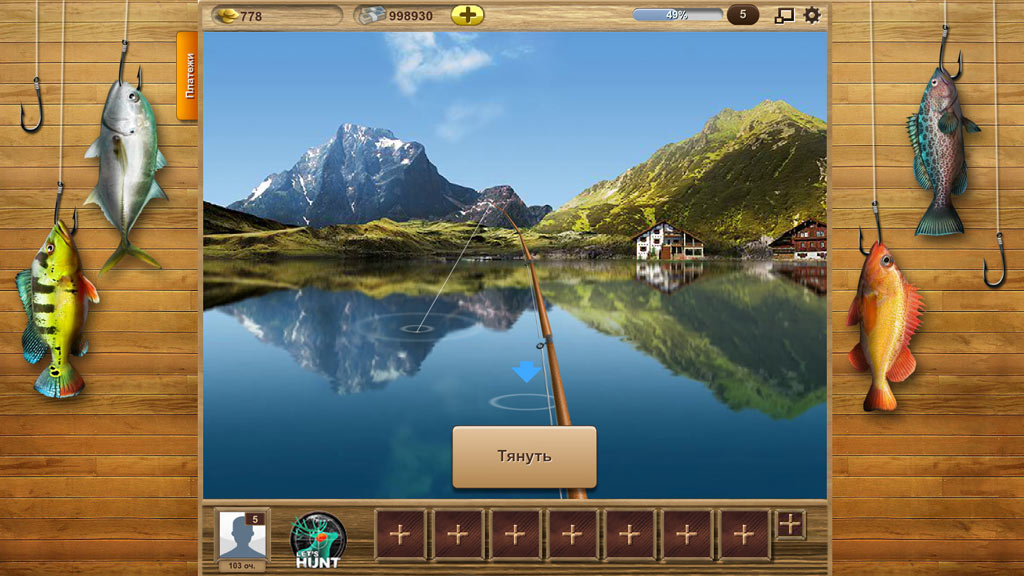 ABOUT THE GAME
Exciting online simulator for one of men's favorite pastimes — fishing. Travel all over the world, level up, earn medals, money and lures. As your mastery increases, you will be able to get more rare and expensive specimens, then use a robust achievement system for bragging rights!
FEATURES
Over 650 species of fish. Catch all kinds of sea creatures: from small roaches to cods, herrings, salmon or huge sharks and even whales!
Over 60 picturesque locations. Go on adventure and discover the most beautiful fishing spots on all continents, including the Amazon, the Rio-Negro, Alaska, Madagascar, West India, Atlantis, the Nile, Fjords and lakes Tonle Sap and Baikal.
Over 400 levels. Play countless hours, advance through levels and unlock new fishing spots and better equipment.
Various fishing gear. Complete your collection from a vast arsenal of equipment: rods, hooks, lines, reels, nets and more. Upgrade your rank and gain access to professional tools, revealing even more opportunities.
Improve your skills. Completing special quests gives talent points that can be spent on improving fishing skills. Three unique talents branches will help you develop skill, strength and abilities to obtain more rare and expensive fish.
Friendly competition. Participate in championships, tournaments and duels to win points in weekly events. Receive valuable prizes: trophies, banknotes and equipment.
Join clubs, communicate and exchange tips and gifts with your friends.